Computer Networking Field Engineer
Terrific Opportunity for a Computer Networking Field Engineer with Excellent Customer Service Skills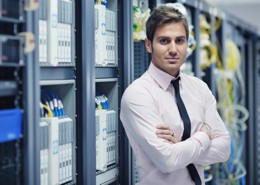 ProductiveTech is searching for a standout Computer Networking Field Engineer who loves technology and is ready for a great new challenge and wants to learn! In your new role you will interact with our clients directly onsite and remotely, installing or maintaining their desktops, servers and network environment.
This position requires technical skills around Windows 7 and Windows 8 desktop operating systems, as well as Microsoft Windows Server 2008 and 2012 administration skills. Also needs working knowledge of routers, access points, and printers. Excellent written and oral communication skills are essential.
ProductiveTech has been a trusted brand since 1984. Join us in our friendly and professional work environment with this truly unique career opportunity! You'll be around other talented technology professionals where we all learn from each other and work as a team.
Participate in our weekly tech meetings to discuss the latest technologies and help in the development of processes to improve the efficiency and effectiveness of our services. Become a part of our community. This is an excellent opportunity to grow your skill-set with room for advancement.
Generous compensation and benefits package:
Salary is commensurate with experience
Paid vacation, holidays, sick time, and your birthday, too
Health insurance
Voluntary benefits including life, disability and an IRA
We provide all necessary tools
Travel expense reimbursement
Career training and certification opportunities
Complimentary coffee, soda and drinks
Lunch is on us every Wednesday!
Crucial to your success on the job is your ability to:
Interact professionally with our clients in-person or via phone or email.
Provide knowledgeable network and desktop support services.
Requirements:
A high school degree and at least 3 years experience in the IT service industry
Good planning and problem-solving skills
Strong written and verbal communication skills
Excellent customer service skills
Professional presentation and appearance
Experience troubleshooting Microsoft Windows Desktop Operating Systems
Basic Microsoft Windows Server 2008 and 2012 Administration skills
Moderate knowledge of routers, firewalls and TCP/IP protocol
Have a reliable vehicle that you can use every day for work
Be able to work standing on occasion and lift 50lbs
Current technology certifications may be beneficial
Experience with RMM tools and ticketing software is helpful
We are excited for the possibility of you joining us. To apply, please email your resume and salary requirements to:
FieldEngineer@productivetech.net.
Thank you!